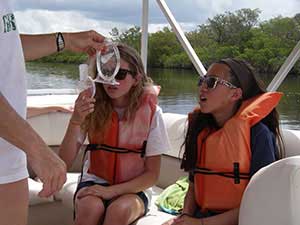 Ostego Bay Foundation Inc. Marine Science Center Corporate Circle
The Corporate Circle membership program gives corporations and businesses an opportunity to support the programs of the Foundation. The essential unrestricted donations provided by our members allow the Science Center the flexibility to apply funds where needed most. Through this group's generosity, the Foundation's ability to develop innovative and interactive educational programs is significantly enhanced.
Corporate Circle Member Benefits
Corporate Leader $2,500

One free guest pass to the exclusive annual Corporate Circle Recognition Luncheon
Recognition on the annual donor wall
Invitations and priority to special events and exclusive opportunities (up to four guests)
Eco Tour of Ostego Bay (up to four reservations)

Corporate Sponsor: $1,000

Annual Report recognition - distributed to public and private sector leaders, major supporters
Invitations and priority to special events and exclusive opportunities (up to two guests)
Recognition on the Annual Sponsor Plaque

Aquarium Tank Sponsor: $300

Brass Plate near aquarium indicating your contribution.
Quarterly newsletter recognition
FREE Science Center admission ($5 value per visit)
Framed commemorative certificate
Opportunities for online marketing/social media
Discount on select Foundation events
10% Gift Shop Discount
Corporate Circle Members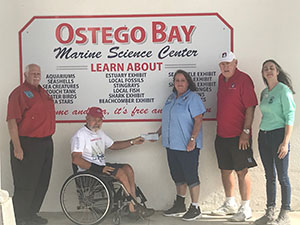 [2DEC2019] The Caloosahatchee Marching and Chowder Society demonstrates thier commment to Marine Science Education presents a $2,000 check raised by the Organizations Summerset Regatta for scholarships at the Marine Science Summer Camp conducted by the Ostego Bay Foundation, Inc.(Photo by Ostego Bay Foundation, Left Daniel Eaton, Ostego Bay Volunteer Coordinator; Allen Fiske Vice Commodore, CMCS; Joanne Semmer President Ostego Bay Foundation, Inc.; Right Steve Romaine, past COMO CMCS; Jessice Province, Ostego Bay Marine Science Center.)
Become an important partner in education and marine research and help us continue bringing enlightenment to Fort Myers Beach Visitors. Ostego Bay Foundation Inc., is a 501(c)(3) nonprofit organization, tax I.D. number 65-0307348. Contact us directly at 239-765-8101 about corporate sponsorship.
Ostego Bay Foundation, Inc. - A member supported organization
718 Fisherman's Wharf - Fort Myers Beach, Florida 33931 - 239-765-8101
info@ostegobay.org