Target Audiences include volunteers and staff members of nature centers, preserves, sanctuaries, and other environmental education facilities. Ecotourism operators and guides, teachers seeking opportunities for environmental education contact hours and anyone who has an enthusiastic interest in learning more about Florida's environment is encouraged to participate.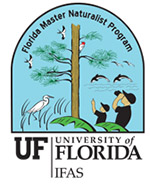 Training in Florida's uplands, wetlands and saltwater coastal systems, will be available at the Ostego Bay Foundation, Inc. Marine Science Center. Completion of the three 40-hour programs results in registration in the UF-IFAS Master Naturalist Program database as a FMNP Coastal Systems Naturalist.
Although the FMNP is not a degree-seeking program, it is appropriate for both the novice and the highly skilled environmental professional. For further information, or to register for the available class, call the Ostego Bay Foundation at (239) 765-8101.
DIRECTIONS TO THE OSTEGO BAY MARINE SCIENCE CENTER
DOLPHINS | MANATEES | SUMMER CAMP | OIL SPILL CO-OP | FL MASTER NATURALIST | EXHIBITS
VOLUNTEERS | INTERNS | EDUCATORS | TREASURES FROM THE SEA | WATERFRONT TOUR
MEMBERSHIP | DONATIONS | SPONSORSHIP | IN THE NEWS | GIFT SHOP
PRIVACY POLICY
Ostego Bay Foundation, Inc. - A member supported organization
718 Fisherman's Wharf - Fort Myers Beach, Florida 33931 - 239-765-8101
info@ostegobay.org