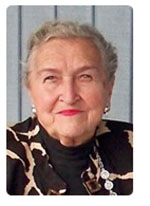 Betty Goodacre Betty Goodacre, 88, a 60 year resident of Ft. Myers Beach, passed away on January 1, 2016. Betty was well known for her community involvement and was named "Humanitarian of the Year" for Ft. Myers Beach in 2015. She served as a Fire Commissioner for the Ft. Myers Beach Fire District for eleven years. Other organizations included board memberships for the AMI School and San Carlos Island Lighting District, twice past commodore of the CMCS sailing club, vice-president of the Ostego Bay Marine Science Foundation, and a member of CERTS. She was active in her church, sang for 35 years with the Southwest Florida Symphony Chorus, traveled to 52 countries, was a registered nurse, former Girl Scout leader, and owned an upholstery business on the island for 50 years. She was the "go to" person for anything that needed to be done. Her drive, commitment, creativity, devotion, and generosity were well known and respected.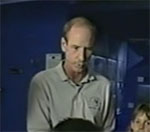 Tom Lee RLTC Thomas J. Lee, Ret., 63, of Fort Myers, passed away September 18, 2009 following a brave battle with cancer. Tom retired from the US Army after 22 years which included serving as an OV-1 Mohawk pilot in Viet Nam and an infantry officer in Panama. After leaving the Army, Tom became the director of the Ostego Bay Marine Science Foundation on San Carlos Island and spent much of his time researching water quality in Estero Bay. For the past 12 years, he has served as a police officer with the Lee County Port Authority.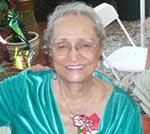 Nina Nyberg Rosalina Nyberg, called Nina by most, was first and foremost a mom. Not just to her offspring, but to the children of friends & neighbors, and as a second mother or grandma to nieces & nephews. And to her beloved doggies. (She even considered the sea-creatures she tended at Ostego Bay her kiddies) She was greatly loved by her sons Jorge Carabelli and Rob, Martin & Owen Nyberg and her daughters-in-law Cheri Bragg and Janet Carabelli. Until he passed away in 2013, Bob Nyberg was not just her husband of 45 years and beloved father to Owen, Rob & Martin, but also her constant companion and source of strength, laughter and adventure. They loved strolling the aisles of book stores, quietly reading together and enjoying time with their family.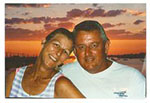 Shirley Semmer Many knew her as the wife of the "mayor of San Carlos Island." But, she was so much more. On July 22, 2015, Shirley Winslow Semmer passed away peacefully with her husband Bill Semmer, daughter Katie Semmer and son Billy Semmer by her side. While Shirley will be immensely missed by her family, the whole community will feel the loss. Family members said she was "so thoughtful in her giving and so selfless in her being." It is that generous giving that will be remembered in the community. Whether she was raising money for the Beach Elementary School, Ostego Bay Foundation, Fort Myers Beach Kids Foundation, Fourth of July Kid's Fishing Tournament, Fort Myers Beach fireworks, supporting her family's fundraisers, attending school and social events, or simply being an encouraging friend or source of support, Shirley touched so many lives in so many ways. "Her unconditional love for the most precious things in her world will forever be her legacy," Katie said.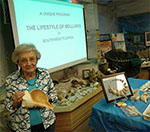 Anna Marie Nyquist Anna Marie was a cornerstone for the the Bailey-Mathews Shell Musem. Before Anna Marie Nyquist became a knowledgeable resource on the subject of shelling, this Maryland native enjoyed growing up in Baltimore County. Anna Marie met her husband George on a blind date. "I wasn't impressed with him at first," she recalled. "But after the third date, I knew it would work. Six months later, we were married. We enjoyed many hours together crabbing and fishing on Chesapeake Bay. Even though my husband of sixty-two years has passed away now, I have wonderful memories of our life together," smiled Anna Marie. Her fascination with shelling first started when her daughter experienced a moment of curiosity during a trip to the beach. "Our daughter, Ann, became interested in a shell she had picked up. She was so curious about the shell that we bought her n identification book," said Anna Marie. That identification book piqued Anna Marie's interest. "Family vacations often took us to the seashore, and who can resist picking up a shell to have a closer look? This can be an occasional habit, or you can find yourself bending over again and again to pick up just one more shell," laughed Anna Marie. "This is great fun and it doesn't take long before you want to put a name to these shells. (From Shell Point Life)
Ostego Bay Foundation, Inc. - A member supported organization
718 Fisherman's Wharf - Fort Myers Beach, Florida 33931 - 239-765-8101
info@ostegobay.org