Guided Working Waterfront Tour - 04/13/22
The Waterfronts Florida Partnership Program was created by the Florida Coastal Management Program in 1997 to address the physical and economic decline of traditional working waterfront areas. Since 1997, a total of 24 communities have received designation as Waterfronts Florida Partnership Communities.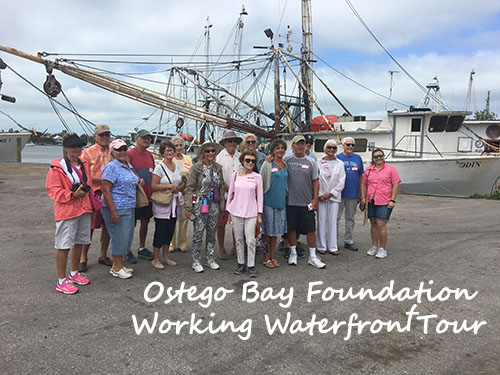 The Ostego Bay Marine Science Centers offers a guided tour of the Fort Myers Beach Working Waterfront. The Working Waterfront is a community of servicing organizations that supports the local commercial fishing industry. You'll see firsthand what it takes to support this multi-million dollar industry, from unloading to retail, welding shops to the net house. This is our effort to preserve the cultural heritage of this unique and historic maritime community.
The cost for the Tour is only $20.00 per adult and $10.00 for children over 6 years of age which helps fund the mission of the Ostego Bay Foundation Inc. Bring your camera. Limited quantities of the FGCU Documentary, "The Pink Gold Rush" are available for purchase. Reservations Required, call for details or click HERE to register online.